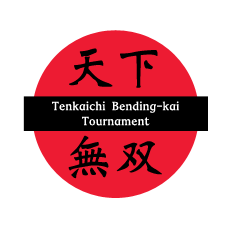 All right folks!  The 3rd Tenkaichi Bending-kai Tournament is officially over!  Thank you to all who participated, and thank you for all those who pulled double and even quadruple duty with multiple characters.  You really fought well this year, but of course, there can only be one winner.  Before we announce the winners, runners-up and prizes, let's announce the state of the bounties so far!
Rewards and Bounties
Spoiler:
Rewards Earned All Rounds
Spoiler:
Please respond below if you have not claimed any of your prizes, or if your prizes have not yet been awarded.
Thanks again to all participants!  Now, to announce the winners!
Lightweight Division Champion and Runners-Up
Spoiler:
Heavyweight Division Champions and Runners-Up
Spoiler:
Below you may find a record of the tournament for your viewing pleasure.  It records who fought who at what stage, and to where they progressed in the tournament.
Staffweight Division Champion and Runners-Up
Spoiler:
Participants by Entrant Number
1. Karasu Kazegami | Water | Steph
2. Raijin Ezofuji-no-Tsukuyomi | Fire [Green] | Kouzai
3. Izanami Ezofuji-no-Tsukuyomi | Fire [Black] | Kouzai
4. Ieyasu Leiheng | Water | Niya
5. Audurna Yan | Fire | Steph
6. Yami Sentoki | Fire | Loola
7. Izanagi Ezofuji-no-Tsukuyomi | Fire [White] | Kouzai
8. Kai'liané Murumasa | Mind | Sara
9. Trace Nightshadow | Earth | Bailey
10. Kara Liu | Earth | Dances With Derp
11. Kimiko Hashiko | Water | Bailey
12. Aryianna Yan | Light | Steph
13. Kamui Leiheng | Fire [Black] | Steph
14. Avatar Ziio Aarushi Kazegami | Water | Sara
15. Aklia Lee Wuu | Water | Dances With Derp
16. Alyssandra Ezofuji-no-Tsukuyomi | Fire | Lyss
17. Clarissa Burke | Earth | Bailey
18. Ulrich Nara | Light | Loola
19. Bailey Jane Kenta | Fire | Bailey
20. Kiara Hide | Dark | Loola
21. Kuma Kurebayashi | Water | Loola
22. Leilani Ezofuji-no-Susano'o | Dark | Niya
23. Mai Ezofuji-no-Susano'o | Dark | Sara
24. Ru-Zheng | Fire | Dances With Derp
Preliminary Match-Ups
Spoiler:
Lightweight Division | Round 1 | Match-Ups
Spoiler:
Heavyweight Division | Round 1 | Match-Ups
Spoiler:
Lightweight Division | Semi-Final | Match-Ups
Spoiler:
Heavyweight Division | Semi-Final Round | Match-Ups
Spoiler:
Lightweight Division | Final Round | Match-Ups
Spoiler:
Heavyweight Division | Final Round | Match-Ups
Spoiler:
Staffweight Division | Championship Match
Spoiler: