BASICS
Name: Kasei Hayabusa
Age: 14
Rank: Bender
Pets:
Weapons:Scimitar, twin daggers, bow, and quiver. He mostly uses his two daggers, but is renowned for his swordplay. His bow is used for hunting, but he sometimes uses it as a weapon.
Has healing powers
APPEARANCE
Hair: He has medium length hair that lays flat on his head, dark brown hair that you can barely tell is dark brown, that is close cropped, and tapered at the sides.
Eyes:He has large, dark brown eyes.
Height: 5' 8"
Clothes: He usually wears a dark hooded cape, underneath which is a brown leather jacket that fits perfectly, underneath that he wears a brown cotton vest, underneath that he wears a khaki colored cloth sweater. His pants are basically brown, cloth, loose fitting pants. His feet are covered with black alligator boots that reach up to his shins.
Picture: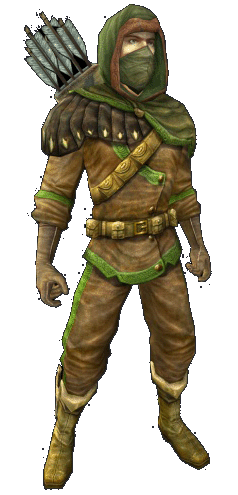 This picture... just about explains him... but I would like it if you read the description, since this isn't exactly what he looks like.
CHARACTERISTICS
Personality:He's rather hotheaded for his age, but his anger cools down quickly. Rather demanding, but still very kind and caring. Still learning to control his anger, very headstrong, and is the kind of person who knows when to have fun and when to be serious. He's pretty much the leader type. He also has a red dragon helm given to him by his father, but he hardly ever wears it and keeps it in a sack with an over the shoulder strap.
Personal Strengths: He can take leadership quickly, and is very responsible, makes friends quickly, and has many strong allies. An excellent leader, and very good at making friends.
Personal Weaknesses: He gets to angry sometimes, and is sometimes to demanding. He is quick to rush people, and mouths back to leaders once in a while. Also thinks that his way, has to be the right way. A little bit bossy, and makes mistakes a bit. Takes challenges head on to fast, and has bit of a bad temper. Hates to be underestimated
Personal Hero: His hero was his father, who was a soldier in the war but was killed by one of his comrades.
Dreams and Ambitions: He dreams of having his life back, before his mother and father died. Sometimes thinks of becoming a great warrior, but is not yet strong enough for it. His main objective is surviving.
Likes: Kasei likes having fun, and often plays cards with some other outcasts. He is very good at throwing darts, and particularly enjoys firebending. His two favorite things to do however, is hiking at night, and staring at the moon. Loves to read almost all the time... but has to spend time wandering about.
Dislikes:Kasei hates gambling, even when his friends openly gamble. He hates drugs, and highly dislikes drinking. He hates people who try to take advantage of others, He dislikes being pushed around the most, and wants to lead himself, even though when he is in a good mood he openly follows orders.
Brief history: Kasei was born into the fire nation, as the son of a powerful; war general, however his father was killed by a vicious firebender who wanted to take his place, leaving Kasei and his mother to fend for themselves. His mother died of a sickness when he was 12, at that time they were living in a shack in the woods, and there was nothing he could do about it. Reluctantly he left his home trying to survive the bitter wilderness, the days that would be the hardest in his life, until he was found when he was 13 by a few earthbending warriors. They picked him up fed him, and trained him in fencing when he asked, and asked for nothing in return except that he would pass on the kindness. After he left the earthbenders he began to look for a way to survive, and it resulted in him becoming an excellent thief. Every now and then Kasei would try to get a job, but the employers didn't want filthy trash with no parents to have anything to do with them. Only a few months ago he turned 14, and is still stealing to survive to this day.