Name:
Stormclouds Over The Foamy Sea
Nickname:
Storm
Age:
5 years old
Species:
Storm comes from a long, famous line of war horses and extraordinairy stallions. He, of course, too is a stallion, bred in the Fire Nation, with the focus on courageous, strong and willfull horses, not so much on speed.
Appearance:
Storm's fur and mane are silvery grey, shimmering like dark and pale silk interwoven. He is a dapple grey horse, his hooves dark silver, as are some of the marks on his fur, whereas the basic color of his fur is snowy white, like moonlight or the foam of the sea. He is a grand horse, very strong, trained to charge instead of fleeing (what would be the basic instinct of any horse when approaching a battlezone). His long, flowing mane is braided in the case of a battle, just like his swift tail.
He has sharp, medium sized hooves and slim, but strong legs. His body type is not to be compared to the slim, swift horses that are used for messenger duties, instead he has a massive chest and a muscular, but gracefully bowed neck. His head is comparatively small and dry, showing his great descent.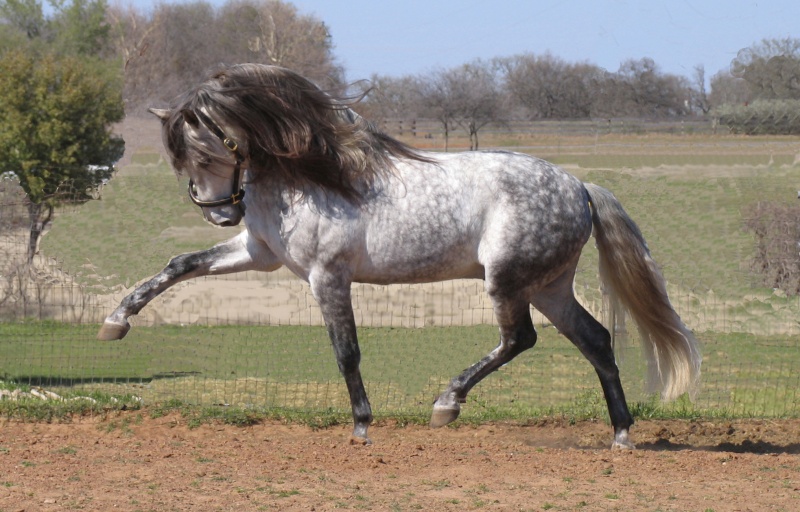 Personality:
Storm was hand-picked by Verrail when he was but a foal. Verrail Shang wanted a curious, but cautious, intelligent young foal that was exceptionally strong and fast. He had to visit five stud farms until he found the right horse. Training to be a war horse is harsh, not many animals make it through, but those who do are of exceptional personality. Storm is more likely to charge at dangers than run away from them, he is, other than most horses, neither afraid of noise nor of heat. Verrail had him especially trained to not shy of fire, since he is a firebender and needs his war horse to stay calm and concentrated at all times.
Towards Verrail, Storm is very loyal. Verrail makes sure to look after his horse himself every evening, so that their bond never breaks. As Verrail's life in battle could depend on this horse, he is very fond of it and sees to it that his stallion has everything he needs at all times.
However, a mare in heat or another stallion could make Storm less concentrated and cause him to show worse results in training, or in a worst case scenario, in a battle. After all, he is a stallion, not just some gelding.
Background:
Verrail handpicked his future stallion from the foals at another nobleman's personal stud farm. He had visited four other stud farms before he finally saw the little horse he was content with, and paid a a great deal of money to get it. After that, Storm was trained by the horse trainers at the Shangs' stud farm on Ember Island, being visited often by Verrail, who took two months off duty in order to break in the young stallion himself. No one except Verrail has ever sat on Storm's back. The servants at the Shang's family estate on Ember Island knew that disobeying a direct order about how to handle the Master's horse would not only lead to them being punished severely, but probably also to them being sacked.