Name:
Dances In The Mist
Nickname:
Mist
Age:
just turned 4 years
Species:
horse, male
Appearance:
Dances In The Mist has mahagoni coloured, very silky fur with a white marking on his forehead. His long mane and tail are thick and as black as the night.
He has long, vigorous, but slim legs, and a likewise strong, yet slim body. His neck is beautifully curved, ending in an average sized, expressive head with very fine ears and fiery eyes.
His hooves are rather small, since he is a warm-blooded horse, but they are very sharp and hard, making it possible for him to even run on rocky ground.
Image: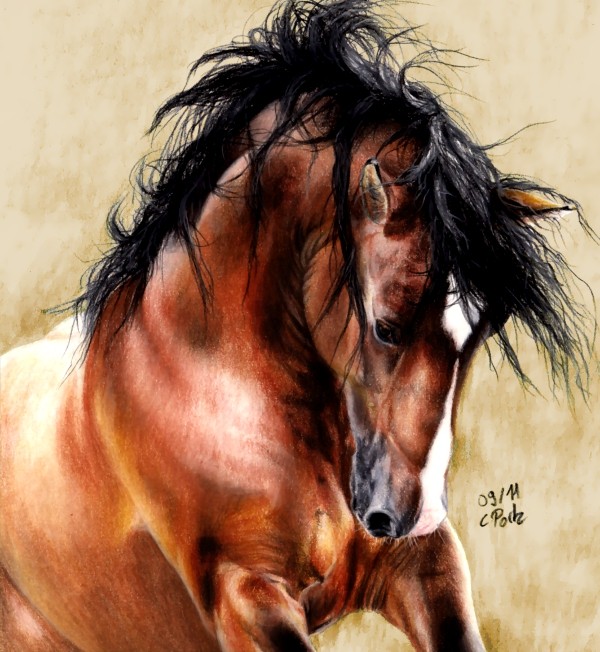 Personality:
Mist is very brave for a horse, with a fiery temper and a very strong, almost stubborn, will. He is not easily scared like most horses are, enduring sudden movements, fire or even deep water.
He loves to be able to stretch his long legs and run as fast as the wind with pantherlike, smooth movements.
To his holder, Alan, Mist is very loyal, and he has been trained to obey his voice as well as the typical horse commands with reins and the rider's legs. He trusts his rider, who is more of a partner to him than an owner, completely. Alan can direct him through the most dangerous looking areas without the horse failing him, but this is only because Alan trusts his horse just as much. When they are out on a mission, they must rely on each other like on themselves.
In Alan's eyes, Mist is more of a person than an animal, and he treats him like a good comrade or a close friend. If the horse got taken, Alan would follow him and risk everything to get him back. They are the perfect team and Alan owes quite a bit of his success to this great horse.
It is out of question that Alan would ever consider selling Mist. In fact, proposing a trade of the horse is just as preposterous as proposing that Alan sells his sister or his mother to someone else. He would never do that.
Background:
When Alan was seventeen - and had been in the army for a year, already showing great potential for messenger duties - his father gave him a trained, very eager mare as a present. Alan cherished that mare and he had her served by a priced stallion, spending almost all of his wages/payment as a soldier on this.
When she had had her foal, Alan spend all the time he did not have on duty or had to spend training with the mare with that young male foal, soon discovering the great potential that lay in the young horse.
Now, four years later, Alan could give the mare, Rain In The Fields, to her well-earned retirement, and she now lives with Alan's halfbrother Horan on the family estate, where Alan visits her whenever he has the time. She is still a very good friend of his, despite her being an animal.
With four years, Mist is still a very young horse, but he has had the strength to carry Alan's full weight for a year and has earned the training level to be on missions just recently. He will grow to have even more strength when he gets older, that much is already visible. He can still be used for military purposes for another eight to nine years, depending on how long he is capable of keeping his strength and speediness up. But the next six years are probably the best years for a young, strong horse in action.