Name:
Jira
Nickname:
Anything from "good boy" to "clutpole" (depending on how stubborn or sweet he is that day)
Age:
3 years
Species:
horse
Appearance:
Jira is a grand warmblooded horse, a horse that could easily be used as a charger, but he is not fully grown yet, being only 3 years old. Also, his training is not fully completed, but since Rela is a good rider, the two of them manage together.
He has chestnut fur, and a long, silken, deep black mane. He has a blaze and his legs are black, one of them having a white marking (right front, see picture). He moves with grace and strength, his fine ears erected and his whole attire proud. Rela often braids strands of his mane and gives his fur and hooves more care than her own hair and nails.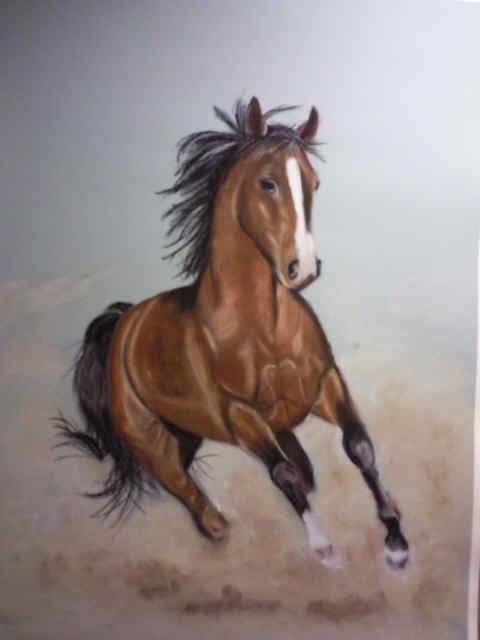 Personality:
Jira is still a very young stallion and he has not a lot of experience. He is often nervous, just like his rider, and tends to react in panic of small, fast moving objects. But he adores other animals, if they don't rush towards him too quickly, and has befriended quite some other horses, dogs, and even cats in the past. He likes being exercised, especially jumping and running, and is particularly fond of his mistress. He does not like strangers to touch him, though, they make him nervous and he tends to react panicing or even aggressive if he gets cornered by strangers.
Jira does not like being in closed rooms, he can endure a stable, but he would hate it for example in a cave, especially if he has no escape route.
Background:
Jira was brought up in Yu Dao, he is the unplanned son of a common mare and a charger. The farmer who owned his mother saw that he could not easily use this horse for fieldwork like his mother as Jira turned two years old and prooved to be a fiery, nervous animal, and so the farmer figured it would bring him more profit to sell the horse. Rela's foster father bought Jira and gave him to his foster daughter, who was having trouble finding friends, since she had a very good hand with the horses that came to their forge for new horseshoes and since she enjoyed riding out on her foster brother's horse.
Rela started to break Jira in and the two of them formed a great bond, learning to trust each other completely. Although Jira is very nervous and hates to cross running water, Rela trained him to even enjoy going for a swim with her. He is her best friend by far, she tells him every secret, and she often gets the impression that he listenes to her closely.